SEO Analytics Report, What is Google Doing Now?
SEO Analytics Reports About Google Keyword Rank
Tracking SEO Results Daily Might Seem Excessive, but it provides vital data for business decision making.
It helps to know which search terms are trending up in search rank and which ones are trending down, as well as what is happening with competitors targeting the same search terms.  Here is a recent example.  The summary report below shows how much movement happens in one month. Moving Keywords up 461 positions was a rewarding result.  The best and second best movers are highly competitive keywords so I was happy with that as well.  But the 20 position drop in "organic search engine marketing Toledo" was alarming!
Search Engine Optimization SEO Tracking Software Report Summary
Digging Into My Keywords Containing the Word "Organic" I See the Following
Only one search term has crashed and happened YESTERDAY!  "Holy Cow Batman," – was my first thought.  OK – I actually used different words.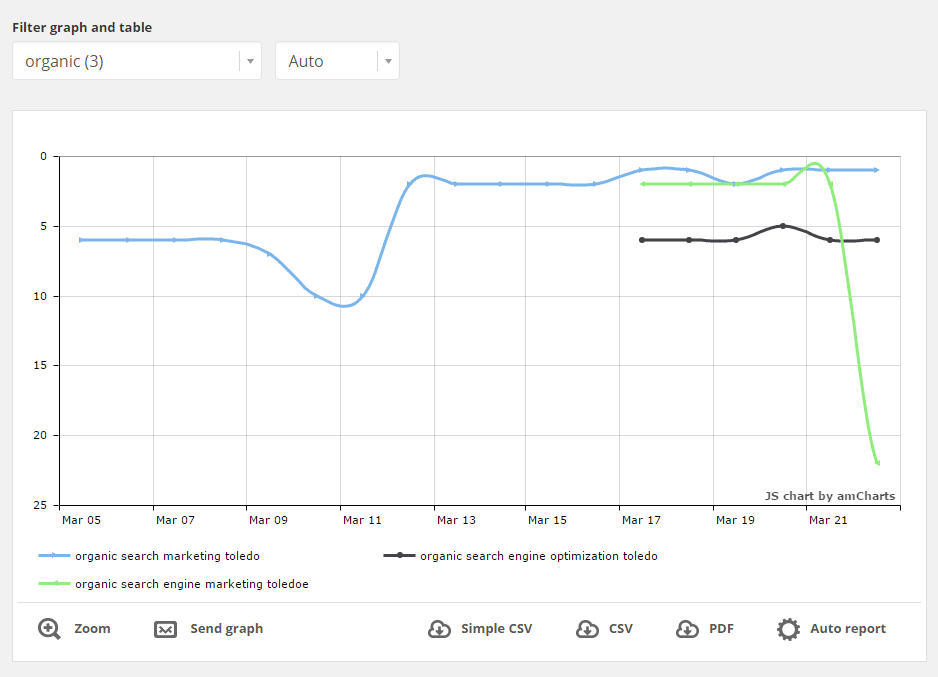 Search Engine Optimization SEO Keyword Group Detail
Before Going Off The Search Engine Optimization SEO Deep End…
Right before going off into SEO Hell, I thought I should check my competition who had also targeted the same SEO keyword phrase.  Amazing! Everybody crashed – and my own site rank position is still relatively the same compared to theirs.
What Does This Mean?
It means we either have a huge number of new players for keyword phrase "Organic Search Engine Marketing Toledo" or… Wait for it….
Google Changed Something!
What needs to be done?  If this had only happened to my web site I would be concerned.  But as long as I know what is going on, and that it happened to all of us, I can relax.   The results might all bounce right back up tomorrow.  Day to day changes that affect everybody, especially in long tail efforts, do not require a response.  Armed with this knowledge, I can now pay attention to continual improvement efforts for my most important keywords!
If you need help tracking your keyword and search rank performance, I can help you with that!
Written by Lonn Dugan, Principal
www.BigMarketingSolutions.com