Monthly Programs For Continual Improvement
Monthly Programs For Continual Improvement: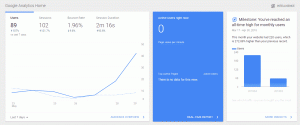 Many of my clients follow a strategy I teach, with a steady investment in a Web of Web's using legitimate Doorway Sites to improve organic SEO rank or reduce PPC cost, or both, for all web presence efforts.
Doorway sites are simple at first, because they are done on a tight budget as far as websites go. They are part of an overall marketing program.
At first they don't have full on design or development because they are playing a supporting SEO Enhancing role for each other and your main site in a web of webs that makes your company look good to Google. Over time, with small improvements each month, they get pretty good.
Our Strategy is based on creating a widespread presence with niche specific content around a common theme on several different websites. This sends signals to Google that your company is mentioned favorably in the context of relevant products, services, or topics on more websites than most.
This apparent presence elevates your overall SEO Rank. In concert with some other tactics I am employ, I make your company look more important to Google. Among other things, this allows you to buy top of page ads for less than the competition is bidding. The wider presence with content around specific kinds of jobs makes Google rank your sites well for the right searchers.