Google Adwords Clickthrough Rate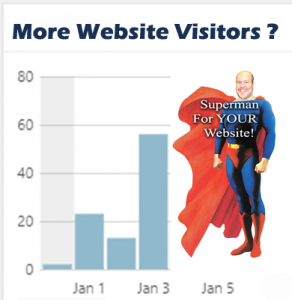 Our own Google Adwords Clickthrough rate is improving.  What about yours?  If we can do it for ourself we can do it for YOU!
Your AdWords Ad can outperform those who bid more, and rank higher when SEO and AdWords are done in hamony.
In fact, Good SEO can allow your AdWords Ad to rank higher than those who bid twice as much.  The seccet is to get a high Adwords Quality Score for your Google AdWords ad!  The image at right shows actual improvement for a client in Website Traffic.
We can help you with SEO and Google Adwords PPC Advertising.  Ask Is how!
Schedule A Free Phone Consult, A Google Hangout Session, Or A Meeting:  Check My Calendar &  [maxbutton id="1″ url="https://calendly.com/bigmark" ]
Your top-performing keywords and ad
Keyword
Clicks
CTR
CPC
1
website websites
4
2.94%
$2.02
2
wordpress designer
3
2.50%
$5.95
3
design a website
2
1.80%
$4.35
4
custom wordpress theme design services
1
33.33%
$3.81
5
website programmer
1
7.69%
$3.77
6
wp site designer
1
5.00%
$4.99
7
internet design
1
3.12%
$3.18
8
custom wordpress
1
2.86%
$3.56
9
website and design
1
2.56%
$1.13
10
website design in wordpress
1
1.92%
$3.03