Digital Marketing Perspectives
Digital Marketing Perspectives
I wa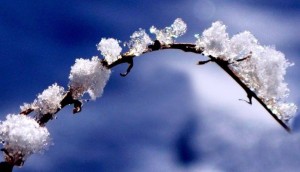 s thinking about the veritable blizzard of "How-to-do-digital-marketing" articles online when a recent snowfall blanketed our city in white.  Many people took pictures.  But most of them looked the same.  It's easy to get a feel for what a lot of snow looks like in a wide shot.  Yes, snow is white. There is no doubt about it.  But I found that the real beauty, as in the photo at right, was found by taking a close-up look at the details. The beauty of digital marketing is in the details as well.
Digital Marketing tips and advice found online could blanket several states in white paper if printed, and still leave you wondering what to do next.  In the big picture view, the digital marketing basics include getting a domain name with the right keywords in it. Potential customers are probably not searching for your company by name.  Do you know what they are typing into the search engines?  Your domain name should include the most popular search terms (keywords).
Next, you can optimize your meta description, keywords, and page titles around the same keywords.  Start the home page with a sentence that is rich in the same keywords.  Use the keywords several times in the first paragraph, because it is the most important for search rank.  A high frequency of keywords accomplishes something called keyword density.  Post articles on social media and blog sites using keywords in titles and copy to get high-quality inbound links.  These are all good steps.  Almost as easy as taking a picture of snow blanketing a landscape.  But we have barely scratched the surface of digital marketing.  The beauty and results come from a deep understanding of and appreciation of a closer look.
Digital marketing efforts come in all sizes from snowflakes to blizzards.  It takes a real pro to understand and prioritize the opportunities, then implement effectively and efficiently – step by step – with measurable results.
If you are not happy with your digital marketing results, and if you are tired of reading about how easy it is, then perhaps it's time to get professional help?