More #Technology And #Innovation in #Toledo
TNewTech Meetup Wishes You Happy Pi Day!
Yes, there is a group of people who like learning about, discussing, and mingling with others interested in #Technology and Innovation in #Toledo!
I hope to see all of your beautiful faces at tonight's meetup. (Yes, there will be pie.)
You and I could have a great conversation about #Digital Marketing for Startups or Technology Companies, #Wordpress #Web Site Design, WordPress Web Site Development, #Search #Engine #Optimization, #SEO, and/or whatever drives your hunger for sweet success!
Don't have much of a sweet tooth?  Join us for some real food after the meetup
at Social Gastropub at 7:30 as we continue the conversation and get to know the startups a little better.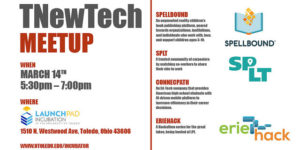 SpellBound – a mobile app and publishing platform. The mobile app is how people experience the SpellBound experiences for books. The publishing platform is how we create and share those experiences. We work with organizations, institutions, and individuals who work with, love, and support children ages 3-10.
ConnecPath – Leo Sanada will be presenting about an ed-tech company that provides American high school students with AI-driven mobile platform to increase efficiency in their career decisions.
See Also:  ErieHack – A Hackathon series for the great lakes, being hosted at LPI.
More info at www.eriehack.io
**Filling out your Meetup.com profile helps us make TNewTech even more awesome 😉 **
Do you want to help plan TNewTech?  Do you have time to contribute? Do you have a startup ide you'd like to pitch?  Send us a message at launchpad@utoledo.edu